You may have heard the terms serif and sans-serif before, but do you know what those terms actually mean? In typography, a serif is a small line, stroke, or other decorative flair regularly attached to the end of a larger stroke in a letter or symbol within a particular font or family of fonts. "Sans" means "without," so a sans-serif font is one that does not have the extending features called "serifs" at the end of strokes.
Serif typefaces are considered more traditional, as they have been around since the earliest examples of typography. They are considered easier to read by some, as the serifs help separate the letters and words for our eyes. You can find serif fonts in most newspapers, books, and magazines. An example of a serif font family you are most likely familiar with is Times New Roman.
Sans-serif typefaces are considered more modern by some. The lack of the decorative flair can make them seem "cleaner." They are often found on digital screens in blogs, websites, and software applications. An example of a sans-serif font family you are probably familiar with is Helvetica. Although, the one you are looking at right now is Gotham.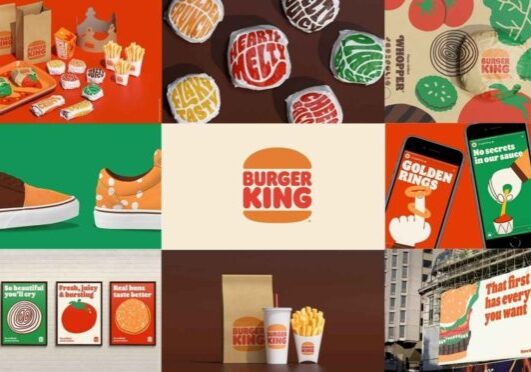 A Brand Refresh fit for a (Burger) King
Not too long ago, Burger King underwent a major brand refresh not too long ago! They hadn't rebranded since 1999, and this new rebrand feels super fresh and juicy. At first glance, some may think they simply returned to their most successful old logos, of which appeared in 1969 and 1994 – but it's so…